Does your employer want to help you develop your skills?
Are you an employer and who wants to train your employees?
More than 600 organizations call on us to set up French language training for their employees. A specialized team will accompany and guide you to the training path best suited for your interests.
A pioneer in the field of teaching French to foreigners (FLE), the Alliance Française de Paris optimizes the learning of language skills in a professional context. Our priority is to improve the oral and written skills of the trainees in order to guarantee their French integration in a daily professional environment. After a precise analysis of your needs, we guide you in setting up adapted training courses while assisting you with the administrative management.

Our team is at your service:

Has your employee or his/her spouse recently arrived in France, or are they in the process of settling in? Our French courses will help him/her to develop their level of French in order to facilitate interactions in daily and professional life.

Would you like your employee's training to enable them to validate and certify their French skills? We offer courses that include an official exam and the option to prepare for it in the best possible conditions.

They trust us :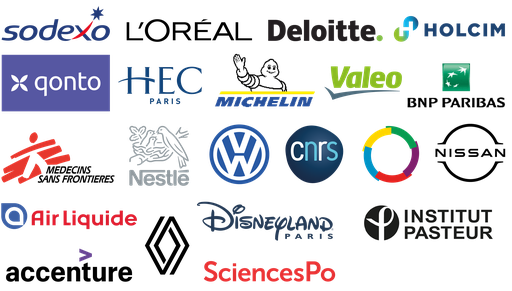 Contact our corporate team now.