Stays Par ici Paris
Our Par ici Paris stays combine French language learning and cultural immersion. Thanks to thematic courses in the morning and specially selected cultural activities in the afternoon, you will enjoy a real experience of discovery and immersion.
Program

Your French courses by cultural themes
With students of the same level, you will learn every day to master pratical French through various cultural themes: the French and gastronomy, Paris and its museums, ... Specially designed for this program, these courses will allow you to acquire the basic expressions of the French language.
Your cultural activities: practice French in everyday Parisian life
Continue learning the language in an interactive way during exclusive cultural activities with cultural mediators from the Alliance Française de Paris.
Welcome to Paris


Is it your first time in Paris and you want to discover the capital in an authentic way and learn the basics of the French language at the same time?
Discover our "Welcome to Paris" saty and live a total immersion in the French culture!
Duration: from Monday to Friday
Group size: from 4 to 10 people
Price: 699€
Recommended levels: A1/A2
Accédez à la page du séjour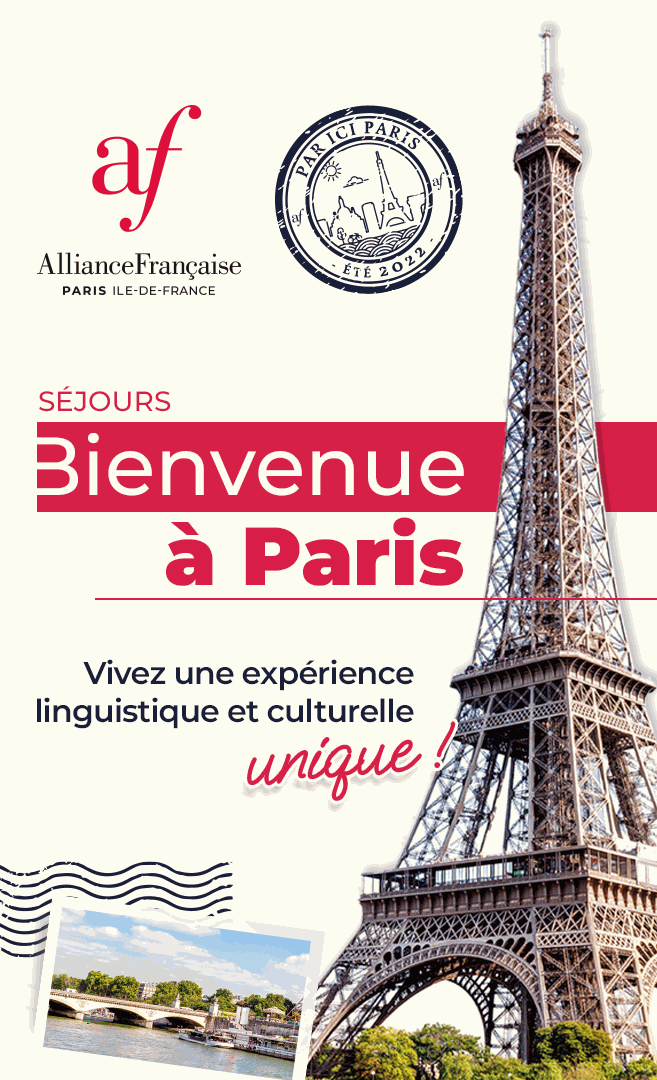 Christmas Paris
Do you dream of celebrating Christmas in Paris? Between illuminations and sumptuous decorations, fairy castle and festive dinner, ... Live the magic of Christmas in Paris during a stay which will reserve you many surprises.
Duration: from Monday to Friday
Group size: from 4 to 10 people
Price: 899€
Recommended levels: A1/A2
Coming soon
Customized stay




Would you like to enjoy a tailor-made stay in Paris? For more information, please contact our cultural, library and student life department.
Contact us