140th anniversary festival of the Alliance Française de Paris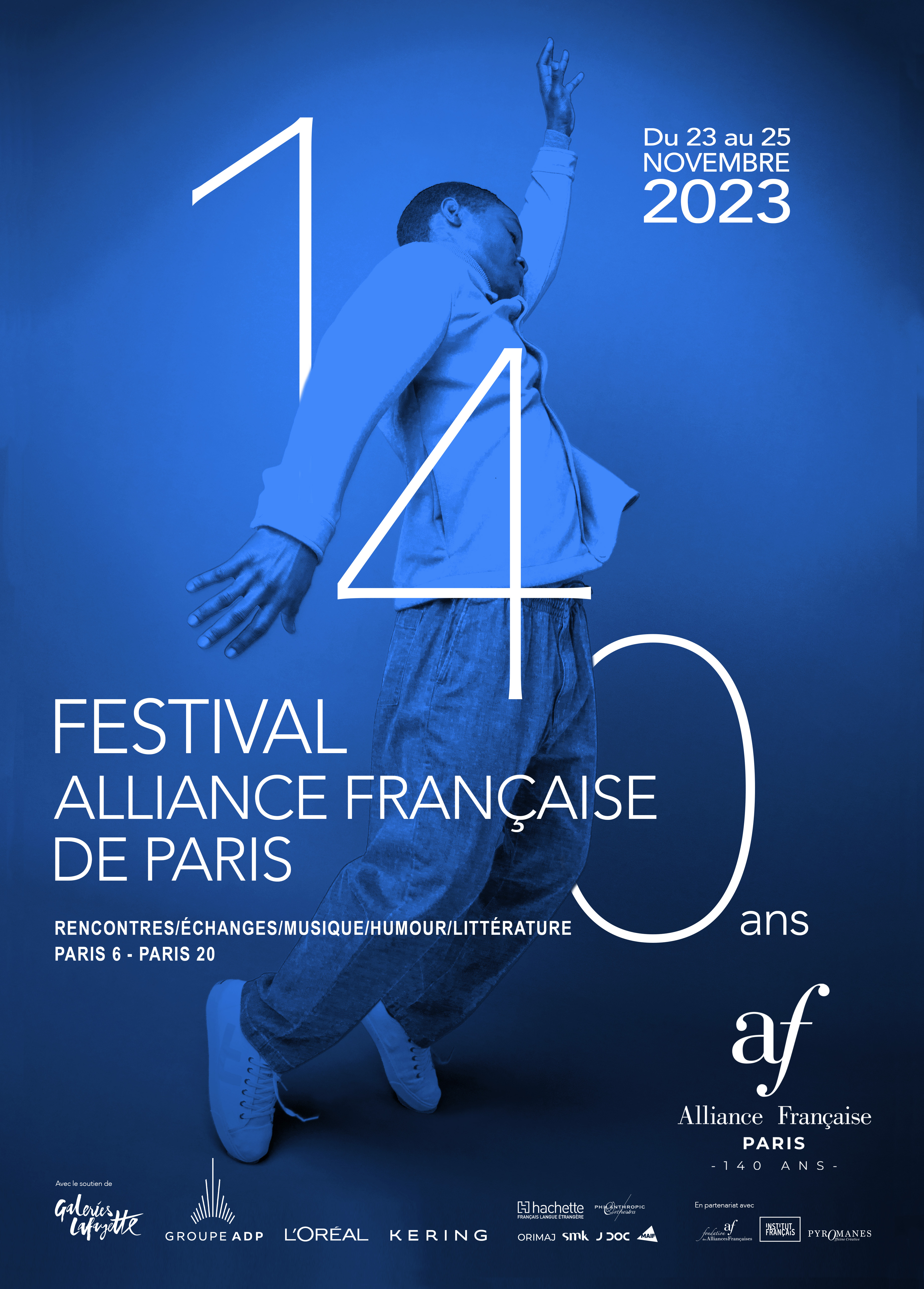 This year, the Alliance Française de Paris celebrates its 140th anniversary and its 110th anniversary at 101 boulevard Raspail. For this special occasion, we're organizing a Festival from November 23 to 25, 2023, during which we invite you to share convivial moments around literature, music and humor, and alongside multi-faceted, creative and committed artists.

In addition to celebrating this anniversary, the Festival aims to encourage and promote cultural exchange, the spread of the French language and French-speaking cultures, inclusion and diversity. These are missions that the Alliance Française has been defending for more than a century, continuing to work passionately to encourage mutual understanding between cultures, promote the learning of French and build bridges between people the world over.

On November 23, 24 and 25, come and discover a unique program of original projects for all ages, and vibrate to the rhythm of music, the French-speaking world and world cultures.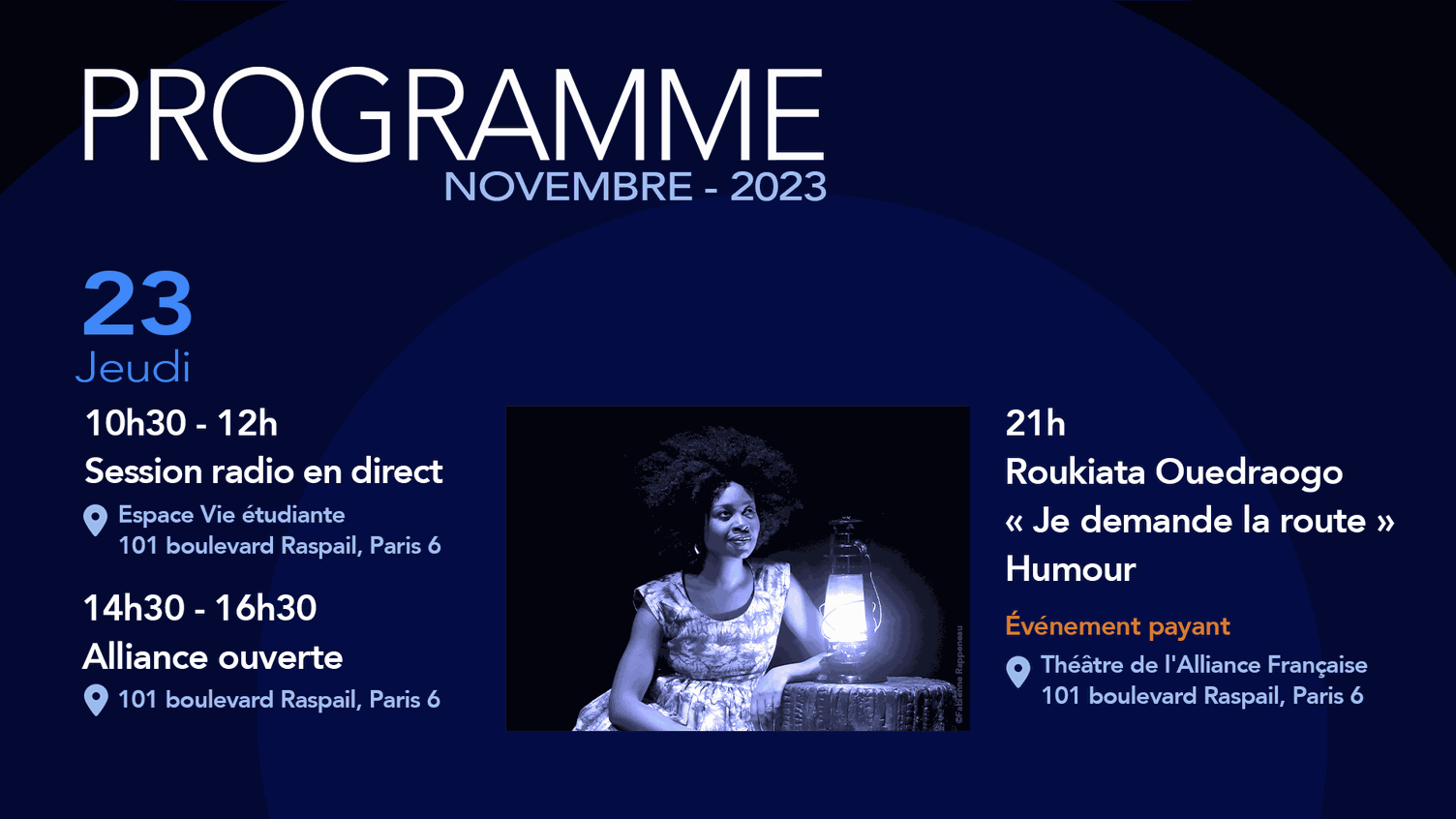 Live radio session
Watch a podcast being made live! Join host Nina Dabboussi for an hour of real-time discussion, with special guests and students and teachers from the Alliance Française de Paris for a fascinating chat. A unique and immersive experience guaranteed.
M'inscrire gratuitement pour suivre en direct l'enregistrement du jeudi
Open Alliance

Whether you're a language learner, student, FLE professional or just curious, come and visit the Alliance Française de Paris and discover all our activities during an afternoon of contact with our teams.

On the program: workshops in French drama and phonetics, conversation sessions, introductions to various training modules, French tests, cultural activities and, above all, convivial moments.

Roukiata Ouedraogo - I ask for the road

Embark on a hilarious journey at the Théâtre de l'Alliance Française with Roukiata Ouedraogo, who shares with humor and self-mockery the adventures that have shaped her incredible journey from elementary school in Burkina Faso to the prestigious stages of Paris. Experience a story that's both touching and light-hearted, where the cultural gaps between France and her native country are tackled in a funny and delicate way. You'll be drawn into this captivating adventure, and will easily be able to identify with this emotionally rich story! This show is only in French.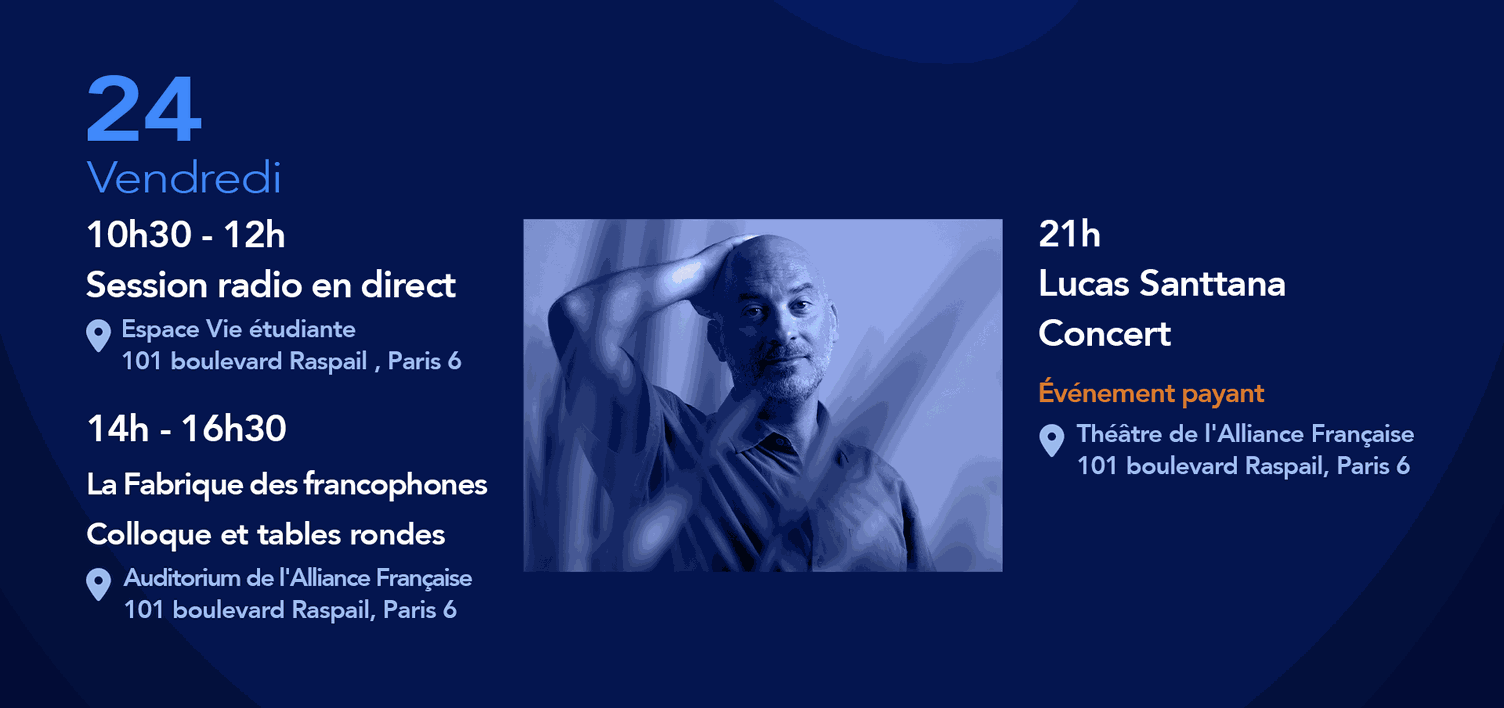 Live radio session
Assistez en direct à la réalisation d'un podcast ! Joignez-vous à l'animatrice Nina Dabboussi pour une heure de discussion en temps réel, en compagnie d'invités spéciaux et d'étudiants et enseignants de l'Alliance Française de Paris pour une discussion passionnante. Expérience unique et immersive garantie.

M'inscrire gratuitement pour suivre en direct l'enregistrement du vendredi

La Fabrique des francophones
Attend a unique gathering where eminent personalities from the French diplomatic network, renowned authors, seasoned journalists, as well as passionate students from the Alliance Française de Paris, come together for captivating discussions around two themes:

"Francophonie: promote or defend?

"Teaching French, by whom, for whom, why?"

Concert Lucas Santtana

Take a trip to the sound of one of the most exciting and committed new voices in Brazilian music. Lucas Santtana takes you on a musical journey that subtly blends pop, electro and acoustic, with influences ranging from MPB (Musica Popular Brasileira) to bossa nova, from radical tropicalism to rock spirit. He blazes his own trail in complete freedom, offering a musical experience that oscillates between gentleness and brilliance, politically engaged lyrics and spellbinding poetry.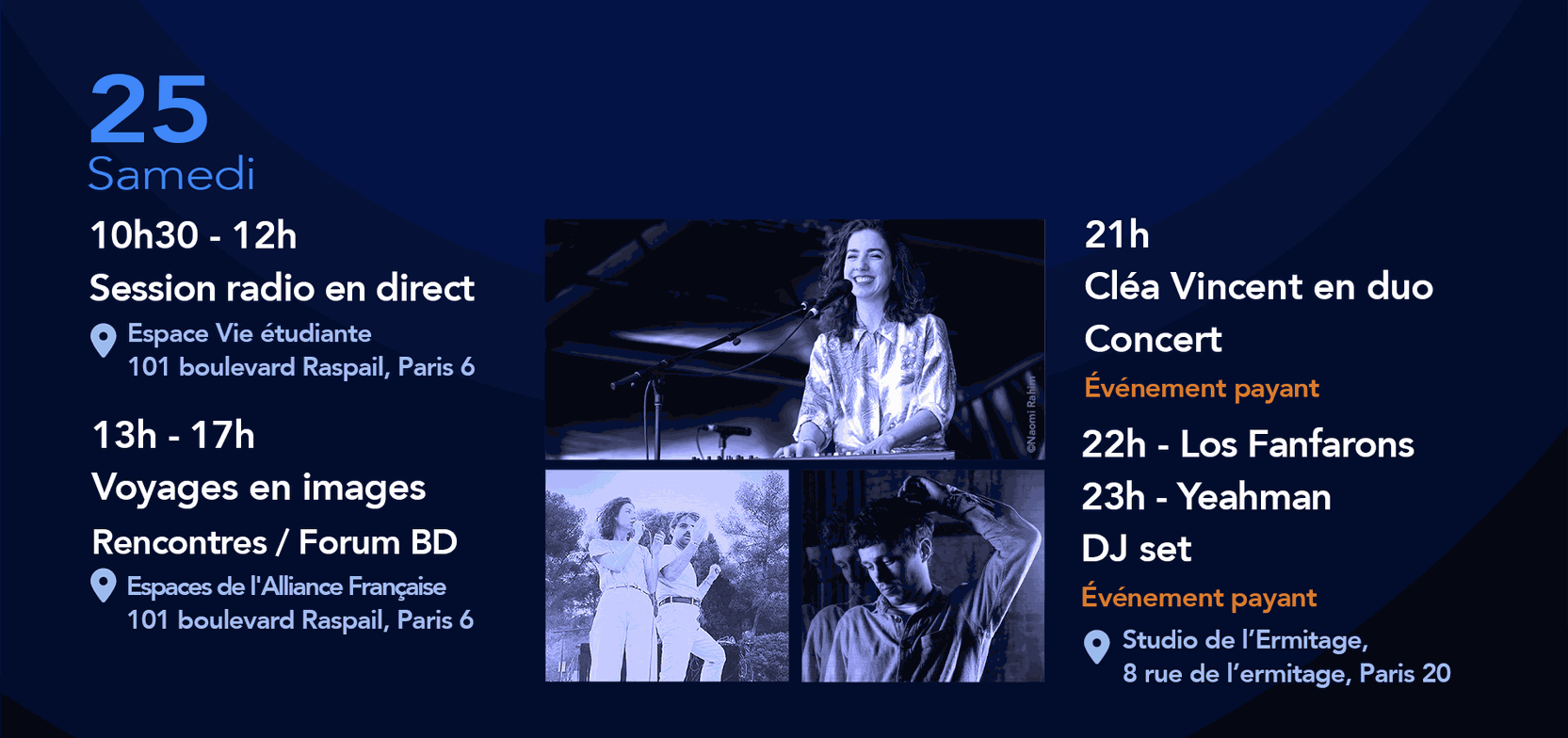 Live radio session
Watch a podcast being made live! Join host Nina Dabboussi for an hour of real-time discussion, with special guests and students and teachers from the Alliance Française de Paris for a fascinating chat. A unique and immersive experience guaranteed.

M'inscrire gratuitement pour suivre en direct l'enregistrement du samedi

Travel in images

Immerse yourself in an exciting afternoon dedicated to the captivating world of comics! Explore imaginary worlds and meet authors in person, who will reveal the secrets of their art. Take part in live drawing and calligraphy workshops to experience the magic of creation, attend exclusive book signings and readings, and chat with authors about fascinating subjects such as travel, immigration and family. Guests will include renowned artists such as Chadia Loueslati, Tito, Odélia Kammoun, Sophie Darcq, Li-Chin Lin, Inès Weill-Rochant, Brigitte Tchao, Christel Han and Olivier Afonso.

This afternoon's program includes:

Comic book sales and signing sessions - 1 to 5 p.m.


Drawing and calligraphy workshops - 1.15pm to 5pm


Live drawing to music - 2:45 to 3:30 p.m.


Meetings/round tables - 1:45 to 4:30 p.m.

Closing night: Concert: Cléa Vincent in duo + DJ Set (Los Fanfarons and Yeahman)

Come and immerse yourself in the intoxicating world of Cléa Vincent, where frank, inspired lyrics blend with catchy melodies to create a sensual, danceable atmosphere. Her music has already set stages around the world ablaze, and you won't be able to resist following her instinctively onto the dance floor.
From 10pm, the party continues with two tropical DJ Sets! The Los Fanfarons duo, composed of Cléa Vincent and Jérôme Violent, will unearth irresistible nuggets for you.

At 11pm, it's Yeahman's turn to take the controls, a multi-instrumentalist and composer who transcends the boundaries between electronic music and influences from five continents.

Discover the artists of the festival

Places and access

Alliance Française de Paris - located at the 101 Boulevard Raspail, 75006 Paris
Metro 4 : stop - Saint Placide

Metro 12 : stop - Notre-Dame-des-Champs

Bus : lines 39, 68, 89, 94, 95, 96

Vélib : close station 6006 (Notre-Dame-des-Champs - Stanislas)
Studio de l'Ermitage - located at the 8 Rue de l'Ermitage, 75020 Paris
Metro 2 : stop - Ménilmontant

Metro 3 : stop - Gambetta

Metro 11 : stop - Jourdain


Bus : lines 96, 26

Vélib : close station n°20121 (Boyer - Ménilmontant)

Car : Parking Olivier Métra

Sponsors and partners

Because this Festival couldn't exist without their help.
Major sponsors

Sponsors

Partners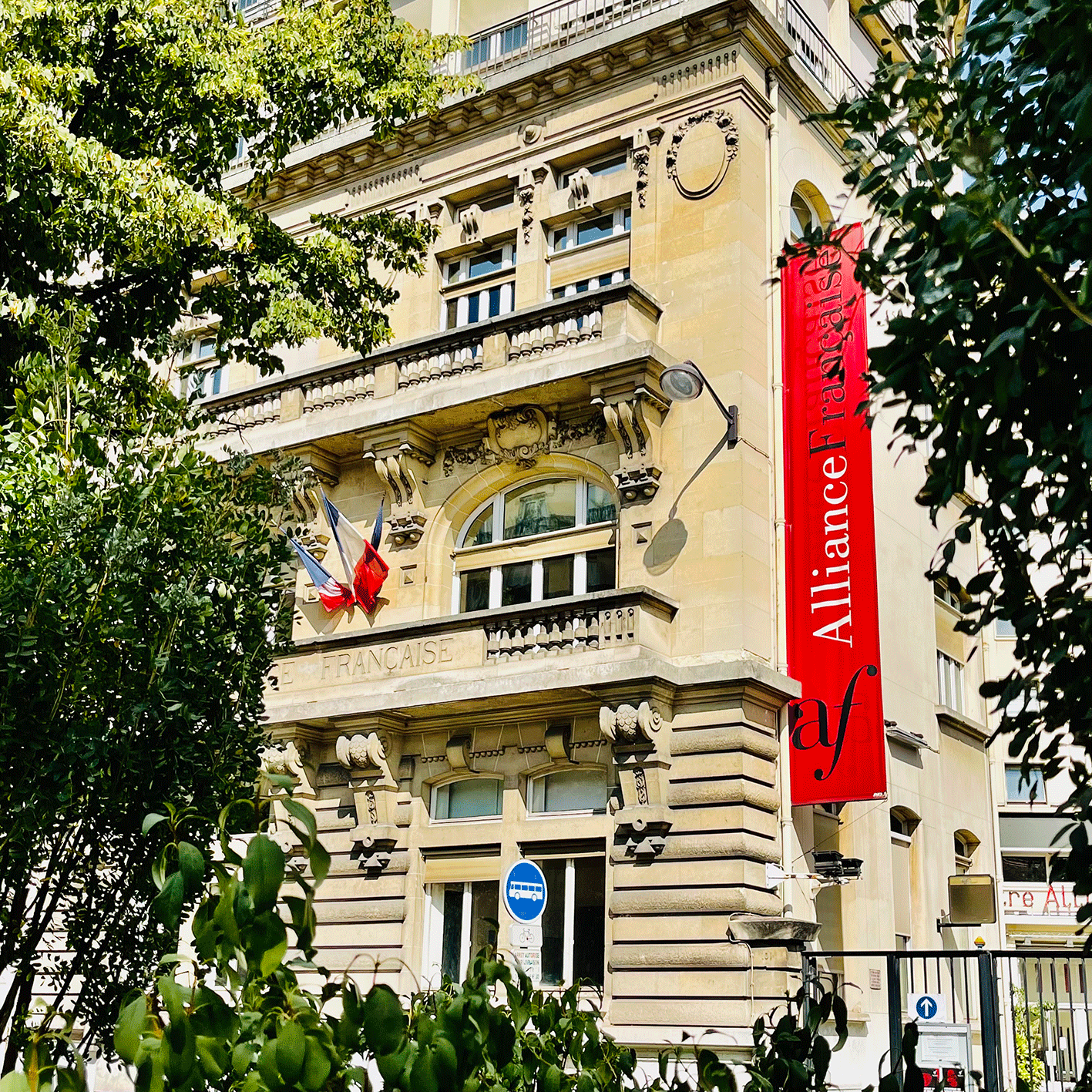 The Institution
Located in the heart of Paris, the Alliance Française de Paris, founded in 1883, is France's leading institution for the teaching of French as a foreign language and cultural mediation. Recognized by the French government as an institution of higher education, the association has built its reputation on the quality of the welcome it extends to its 10,000 students of 120 different nationalities every year, the excellence of its teaching and training, and its unique cultural mediation program, which encourages exchanges and facilitates access to the city and employment for its community of learners.
Open to the world, the Alliance Française de Paris is a place for sharing, exchanging and creating. It encourages the meeting of cultures and makes them accessible to all!
FAQ

- What language are the events in?

Free daytime events during the three-day Festival, as well as Roukiata Ouedraogo's show "Je demande ma route", will be in French.

Concerts by Lucas Santtana, Cléa Vincent and DJ sets by Los Fanfarons and Yeahman will be musical events in several languages.

- May I come with an animal ?

The Alliance Française de Paris welcomes pets, but they are not accepted, except for guide dogs.


- I have a disability. Can I attend events?

Seating for PRMs will be available in the balcony of the Théâtre de l'Alliance Française on Thursday and Friday evenings, and in the Studio de l'Ermitage on Saturday.

- I have a problem with my ticket. What should I do?

Once you have purchased your ticket, you will receive an e-mail from the DICE platform confirming that the sale has been completed.
Please note! This confirmation is not a ticket. The ticket in the form of a QR code will be automatically generated on the DICE application (to be downloaded onto your smartphone) on the day of the event.

Don't have a smartphone or can't download the DICE app? No problem! If you've purchased your ticket (and received the confirmation e-mail from DICE at the time of purchase), all you have to do is give us your name at the event door, so that we can find you on our lists.
In keeping with our CSR (Corporate Social Responsibility) policy, which we follow on a daily basis at the Alliance Française de Paris, we want to avoid printing paper tickets for our events as much as possible.

- Are tickets refundable?

In the event of cancellation on our part, you will be informed immediately of the reason and your ticket will be refunded in full.

If, however, you decide to cancel, you can securely resell your ticket via the DICE app and recover the amount paid, if there is a waiting list to attend the event.
- Do children have to pay ?

Minors are welcome, provided they are accompanied by a legal guardian.
All daytime events at 101 boulevard Raspail are free and open to all, subject to availability.
Children will be charged the -26 rate for paying evening events.
- Can I use my camera?

Only professional cameras are allowed (except for accredited persons who have applied in advance).

- What items are prohibited?

Here is the list of prohibited items in application of the Vigipirate plan:
large bags,

travel backpacks, suitcases,

helmets,

firearms, bladed weapons (even imitation),

any sharp object: knives, scissors, etc,


drones,

all glass and plastic bottles and opaque containers such as thermoses and cans,

aerosols and pressurized bottles,

toxic or chemical products,

flammables liquids

fireworks and by-products (firecrackers, fireworks, flares, etc.).
Only clear 0.5-liter water bottles are allowed, as well as water bottles whose contents can be checked.

- Can't find the answer you're looking for?

Chat with us on our social networks:
Or write us an e-mail :